CT-Based Electric Boat Expects to Hire 4-5K Per Year: 'I Don't See Any Real Letup'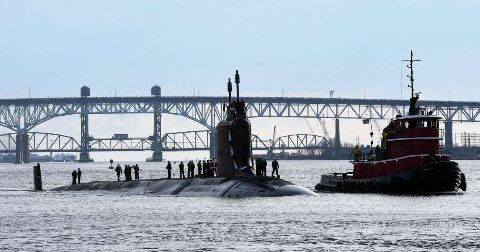 After hiring nearly 4,000 people last year for its Groton shipyard and satellite facilities in New London and Rhode Island, the president of Electric Boat said Monday the company sees the need for at least 3,000 more within a decade — but with far more intensified hiring over that stretch given the need to replace workers jumping ship for retirement or other reasons.
Speaking Monday at a review of Electric Boat for state and federal legislators and staff, the president of the General Dynamics subsidiary said he envisions the company's hiring hitting its peak level in 2033 — with some of those prospective hires only in second grade today. By then, Electric Boat will top 22,000 employees in Connecticut and Rhode Island, up from roughly 19,000 today according to Kevin Graney, Electric Boat president.
"What's happening with our workforce is that we've got a number of them aging out toward retirement, and so we're bringing in new people just as quickly as we can to replace them," Graney said Monday in Groton. "The hiring cycle that we're looking at right now is 4,000 or 5,000 people a year. ... I don't see any real letup in our need to find people."
Graney added that Electric Boat has only limited capacity to parachute skilled tradespeople into Groton from other General Dynamics shipyards and businesses, given the hiring challenges for facilities like Bath Iron Works in Maine and at the General Dynamics NASSO shipyard in San Diego that builds auxiliary ships for the U.S. Navy.
In December, the U.S. Department of Defense awarded $5.1 billion toward construction of the first two Columbia-class submarines, the USS District of Columbia and the USS Wisconsin, as part of an overall anticipated investment of $132 billion. Electric Boat is aiming to deliver the first of the new Columbia class of ballistic missile submarines to the U.S. Navy in April 2027, while maintaining a pace of two new Virginia-class attack submarines annually.
Recognizing the struggles of shipyards to hire, the National Defense Authorization Act sets aside extra funds to help them defray the cost of housing, relocation and training, including $267 million to help Electric Boat and Virginia-based Newport News Shipbuilding widen the pipeline of qualified workers. Last month, the CEO of General Dynamics said the investment extends to suppliers, with Electric Boat reliant on a number in Connecticut to deliver key components.
"This year will give us a bit of a chance to further seek funds for the velocity of the material coming into Electric Boat," said General Dynamics CEO Phebe Novakovic, speaking in January on a conference call. "That ought to be a good thing for all involved, despite and notwithstanding the considerable issues around schedule."
U.S. Rep. Joe Courtney, D-Conn., told CT Insider the Navy's needs could extend beyond the dozen Columbia-class subs currently envisioned for the fleet, holding out hope for an additional two subs to match the current Ohio-class fleet of 14 subs. While the New Start nuclear treaty with Russia caps the U.S. ballistic missile sub fleet at 12 vessels — Russia suspended its participation in the treaty this month – Courtney said the Columbia-class subs could be configured for missiles carrying conventional warheads.
"The real 600-lb. gorilla is the Columbia program — these things are two-and-a-half times the size of the Virginia-class subs," Courtney said. "That thing is coming, and the build-rate for Virginia is at two subs a year."
The Government Accountability Office is keeping close tabs on the ability of Electric Boat and Newport News to deliver on the Columbia program, with Newport News building key sections of the ship that will be barged to Groton for final assembly. GAO auditors said that Electric Boat's hiring crunch had resulted in recent college graduates supervising "complex work" in its words resulting in isolated delays, but that Electric Boat has addressed the issue.
"Because of the Columbia class program's essential role in strategic deterrence, it has priority status over most national defense related programs, including the Virginia class program," GAO auditors wrote in a January overview of the Columbia-class program. "The shipbuilder added staff to the Columbia class program who were originally planned for the Virginia class program, contributing to delays for that program."
Speaking Monday in Groton after his recent trip to Ukraine, U.S. Sen. Richard Blumenthal, D-Conn., cited the strategic importance of Electric Boat workers and growth, in the context of Russia's aggression and China's accelerated naval shipbuilding program under Xi Jinping.
"The simple fact is that the United States of America faces the biggest challenge to its workforce development and defense industrial base since World War II," Blumenthal said Monday. "To be very blunt, nobody is watching more closely than Xi — because their time horizon is not a decade away, but possibly within years as to whether and when they would try to take Taiwan."