Amid industry growth in CT, colleges launch new fintech programs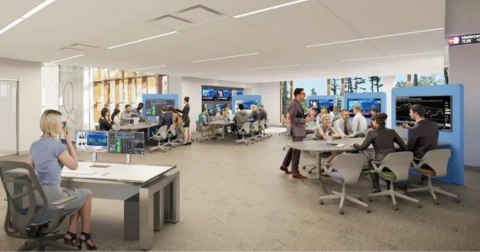 5 Oct 2023
Higher Education
Financial technology has been increasing in popularity as banks and other financial institutions look for ways to beef up their services, while businesses and consumers desire simpler ways to manage their funds — whether it's using Kabbage for getting a loan, or Zelle for sending cash.
Worldwide, the fintech industry generated $9 billion in revenue in 2017, and was projected to hit $169 billion in 2023, and $294 billion in 2027, according to market insight firm Statista.
Chris DiPentima, president and CEO of the Connecticut Business & Industry Association, said tech has been "one of the fastest-growing industries in Connecticut over the last five years."
Fintech and insurtech have particularly driven this growth, due to the abundance of financial and insurance companies here, he said. Connecticut has a number of fintechs statewide, including Covr Financial Technologies and IncomeConductor, both in Hartford, Darien-based Oasis Pro Markets, and Tomo and Rellevate in Stamford, to name a few.
There were 11,651 fintech startups in the Americas last year, up 8% from 2021, according to Statista.
Demand for employees with fintech skills is growing along with the industry.
"Fintech education and training, along with insurtech, cybersecurity and more, are certainly needed to provide the supply of workers needed to keep up with the demand," DiPentima said.
Multiple Connecticut colleges are responding by crafting new fintech degrees and programs.
Fairfield University this fall is launching a new, 30-credit financial technology master's degree program at its Charles F. Dolan School of Business.
"None of our existing programs prepared students adequately for these new roles, so we felt that it would be a good idea to develop a new program," said Katsiaryna Salavei Bardos, chair of the finance department and an associate professor of finance at Fairfield University.
Fairfield's new program is geared toward both recent graduates and working professionals. Students may pursue it on a full- or part-time basis, and they also have the option of completing the program fully online or in a hybrid format.
Bardos said students who want a career in fintech need an understanding of both finance and technology, from blockchain and artificial intelligence to machine learning.
"There have been so many recent developments that are transforming the world of finance — things like cryptocurrency, decentralized finance, Venmo, Zelle, and peer-to-peer payment methods," Bardos said.
The new degree program's required courses tackle topics like strategic management of technology and innovation, data warehousing and visualization, artificial intelligence applications, blockchain and cryptocurrency, decentralized finance, algorithmic trading, and ethical considerations of fintech.
Students can also choose from fintech electives on topics like derivative securities, global financial markets and institutions, investment analysis, portfolio management, financial risk management, analytics and statistics.
Given how the fintech space isn't well-regulated yet, the university wanted to require ethics-related coursework, Bardos said.
"There is a lot of potential misuse of the technology, so we place a lot of emphasis on discussing the ethical implications," she said.
The fintech ecosystem continues to grow, with many startup companies like Chipper Cash, Mercury and Spiff.
"It's not just in the area of venture capital — traditional financial institutions are investing a lot of money in the fintech space," Bardos said. "But we don't really have graduates well prepared for the space yet."
Fairfield University graduates with this new degree will be prepared to work for traditional, well-established financial institutions, startups, or even to start their own companies, Bardos said.
UConn launched its fintech program in 2022.
John Wilson, the program's academic director, said he believes UConn was the first college in the state, and one of the first in the country, to get into the space.
"Fintech is a huge and growing ecosystem," Wilson said. "From UConn's perspective, we're looking to be the leader, the institution that you think of when you think of fintech. We feel that there's going to be a lot of institutions competing with us for students in the coming years."
UConn offers a 36-credit master's degree and a 12-credit graduate certificate in fintech, available online and in-person.
Enrollment in UConn's fintech program for this fall is at about 100 students, according to Wilson.
UConn is further expanding fintech programming to reach a global audience via asynchronous online programming, he said. In asynchronous classes, students can review material and learn on their own time.
Laurissa Berk, director of student and faculty services and graduate STEM programs for the UConn School of Business, said offering different options, such as asynchronous online classes, is a direct reaction to global interest.
UConn officials recently returned from Sao Paulo, Brazil, where they discussed UConn's offerings with firms such as financial services company Banco Bradesco.
Plans are underway for trips to Israel, London and Hong Kong, to find out what skills companies are looking for and let people know about UConn's online fintech programs, Wilson said.
UConn is also launching an accelerated fintech master's degree program and will be marketing and recruiting for it this fall.
UConn first started developing its fintech programs about four years ago, and wanted to expose students to all areas where these skills will be useful, from banking and financial services to the insurance, medical and real estate industries.
UConn built its curriculum with the help of a board of advisors that has provided guidance on emerging technologies and what students need to know, Berk said.
"It's built intentionally and purposefully to meet the skills gap that's in the industry today," Berk said.
At Quinnipiac University in Hamden, a fintech major has been in development in recent months.
Surya Chelikani, who chairs Quinnipiac's finance department, said the university plans to begin enrolling students in the major during the coming academic year.
"Our fintech majors will learn about the transformative technologies in the finance sector," Chelikani said.
Holly J. Raider, dean of Quinnipiac's School of Business and a professor of management, said the college is launching its fintech program because it's committed to preparing students for future careers.
"Fintech is a rapidly growing segment of the finance industry and just one of the ways our school is innovating and anticipating the future of work," Raider said.
Quinnipiac has been recruiting faculty with relevant expertise, including in the business applications of blockchain.
Complementing Quinnipiac's new fintech major will be a state-of-the-art financial technology center, Raider said, that will provide a real-world trading floor environment equipped with Bloomberg terminals and collaborative, real-world learning spaces.
Read the original article here: https://www.hartfordbusiness.com/article/amid-industry-growth-in-ct-colleges-launch-new-fintech-programs