UConn Joins Elite Cohort of Economically Impactful Institutions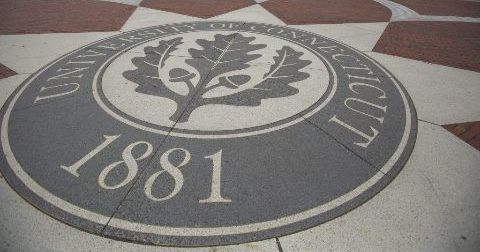 The Association of Public and Land-grant Universities (APLU) has lauded UConn's positive impact on the state's economy and innovation culture with a prestigious honor reserved for the country's best public research institutions.
UConn has been named an Innovation and Economic Prosperity (IEP) University. The designation honors the University's research prowess, public and private partnerships, capacity for invention and discovery, and effectiveness in creating jobs. Additionally, it celebrates UConn's economic and community development, support for talent and workforce development, and technology transfer.
"Contributing to the prosperity of our state has been a cornerstone of our identity since 1881," says UConn President Radenka Maric. "In recent years, we have truly begun to fulfill our potential as a leading driver of economic growth and dynamic innovation for Connecticut, the region, and beyond. We're honored by this designation, which serves as validation for what we've accomplished so far, and as a spur to even greater achievements in the years to come."
Across the country, 85 universities have achieved IEP status. UConn representatives will be honored in November at the APLU's annual meeting, held this year in Seattle.
"Connecticut's investment in UConn has helped develop the University into the Northeast's premiere public research institution. In the process, UConn has become intertwined with the state's economy as a job creator and generated hundreds of millions of dollars for cities and town across the region," says Pamir Alpay, UConn's interim Vice President for Research, Innovation, and Entrepreneurship. "We are leading the effort to transform Connecticut's innovation toward industries critical to the future. In short, UConn's success has meant greater prosperity for the Nutmeg State."
UConn conducted an internal review and analysis of economic engagement activities, incorporating stakeholder input from outside the University. The self-study identified three areas of institutional strength in economic engagement and required a plan for continuous learning and improvement to benefit the state and other regional partners.
"Economic development is a major pillar of universities' work," says APLU President Mark Becker. "From talent development to pathbreaking research to entrepreneurship and beyond, institutions have a central role to play in economic development. We're pleased to recognize UConn for its commitment to engaging its community around these issues to advance regional economic development."
By all metrics, UConn has a profound role in Connecticut's workforce and generates significant revenue for the state's cities and towns.
UConn's economic impact on the state is estimated at $6.9 billion, with $320 million in state and local taxes. The University supports almost 32,000 jobs and has a labor income estimated at more than $3 billion. UConn's direct workforce across its main Storrs campus, regional campuses, and UConn Health in Farmington exceeds 12,000 positions.
Connecticut is a state with a rich history in innovation, with companies and workers who have advanced aviation and military technology, explored new sources of energy, and improved grid resilience. UConn partners with many of the state's industries in collaborations that provide students with invaluable experiences and a pipeline to high-paying jobs.
In the process, UConn and companies like Pratt & Whitney, General Dynamics, and Eversource work together to explore new possibilities. The Innovation Partnership Building is a center for such industrial collaboration and research. Investments like the Future Climate Venture Studio present opportunities for company startups to work with UConn to develop socially and environmentally responsible businesses.
UConn also hosts the Technology Incubation Program (TIP), Connecticut's largest incubator for business startups. TIP has incubator space in three locations, supporting innovation in fields like biomedical research, fintech, blue technology, materials science, and more. UConn Research's Technology Commercialization Services supports development of ideas from concept to IPO, offering expertise in patenting, seed funding, and licensing. The resulting companies and inventions further support the state's workforce, enhancing the economy and propelling concepts and products.
The economic and innovative commitment extends into future planning and developing new opportunities in breakthrough technology. Statewide, UConn and Yale are leading an effort to establish Connecticut as a nation's leading accelerator of quantum technology. In May 2023, the Quantum-CT project earned a $1 million National Science Foundation (NSF) Engines Development award, which will help position the project and state to compete for an NSF Engines Award of up to $160 million over 10 years.
Quantum technologies are developed through mechanical principles that govern the atomic and subatomic world. Such innovations are poised to influence hundreds of applications, such as Smartphones, navigation systems, and advanced computers. The work is bigger than just UConn and Yale: the leadership spans an expansive coalition of public, private, and state officials, all of whom stand to be impacted by economic revitalization spurred through quantum technology translation.
"It is UConn's commitment – and our pleasure – to engage across the state and with its residents as we work to make a difference in Connecticut, for Connecticut," says Katherine Grady, UConn's Executive Director for Community Engagement and Outreach. "Especially as we look to the future of our state, UConn remains steadfast in our efforts to prepare the next generation workforce, foster community engagement and subsequent development, and inspire innovation. To be recognized by the APLU as an IEP designee means not only that UConn has demonstrated success in contributing innovation and economic prosperity for Connecticut, but that we have thoughtfully considered how to improve and grow that impact in the future."