CONNECTICUT PURSUES OFFSHORE WIND INDUSTRY OPPORTUNITIES AT GLOBAL OSW TRADE SHOW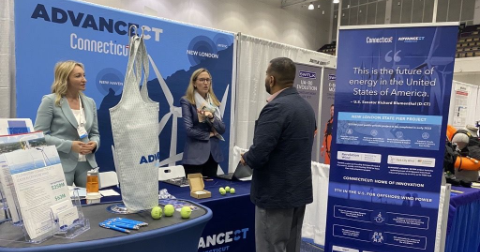 Boston, July 27, 2022 – The State of Connecticut wrapped up its presence at the Reuters U.S. Offshore Wind 2022 conference in Boston, Massachusetts last week as it looks to continue its emergence as one of the leading states for offshore wind development in the Northeast.
The AdvanceCT-run booth, staffed by AdvanceCT team members Saranda Belica and Francesco Ricigliano, highlighted Connecticut's strengths in offshore wind supply chain partners, servicing and maintenance, and staging and assembly as well as the state's ambitious commitment to renewable energy, with a goal of net zero carbon electricity by 2040 and zero carbon by 2050.
The booth also focused on the redevelopment of the State Pier in New London, which will transform into a state-of-the-art heavy-lift capable port facility to accommodate the offshore wind industry while maintaining its freight rail link. Three projects are already scheduled to be delivered from the port once it is completed in early 2023: Revolution Wind, Sunrise Wind, and South Fork Wind. The potential of the State Pier has been lauded by Eversource Energy CEO Joe Nolan, stating that it represents "the best site for this work between Norfolk, Virginia, and Halifax, Nova Scotia, and only 60 to 65 miles from our nearest turbine locations."
Connecticut officials David Kooris, Chair of the Board of the Connecticut Port Authority, and Alexandra Daum, Deputy Commission of the Department of Economic and Community Development, led panel discussions at the conference, with Kooris leading a review of port upgrades and activities and Daum focusing on inter-state collaboration and approaches to build a domestic supply chain.
Joining the Connecticut delegation were representatives of the business community, with autonomous maritime solutions company ThayerMahan Inc., New Haven Harbor and State Pier operator Gateway Terminal, Fortune 1000 electrical product manufacturer Hubbell Incorporated, and heavy and marine construction company Mohawk Northeast, Inc in attendance, to name a few.
Connecticut continues to draw attention as an increasingly desirable location for offshore wind staging and assembly due to its proximity to Northeast wind lease areas, maritime tradition, manufacturing capabilities, and the investment of hundreds of millions of dollars in its deep water ports in Bridgeport and New London.
About AdvanceCT
AdvanceCT is a nonprofit organization that works to engage, retain, and recruit businesses and advance the overall economic competitiveness of Connecticut. AdvanceCT works in close collaboration with the Connecticut Department of Economic and Community Development (DECD), as well as the private sector and other statewide economic development organizations to implement high impact and inclusive economic development solutions. Our team advocates for and promotes Connecticut as a location for companies to compete and grow. www.advancect.org
###