High-Tech Connection - Connecticut boosts its Innovation Corridor and the workforce to go with it.
by SAVANNAH KING
In 2021, a slew of high-tech, innovative companies chose to locate their headquarters in Connecticut. They included, believe it or not, tobacco giant Philip Morris International (PMI), as it looks to reinvent itself as one of the most iconic brands in the world. For the last decade, PMI has endeavored to separate itself from traditional paper cigarettes, and in 2019 launched its smoke-free future campaign. The new headquarters will be located in the central business district of Stamford and will bring 200 new jobs to the area.
"Connecticut offers a valuable mix of technological know-how, future-forward thinking, and an open-minded approach to problem-solving," Jacek Olczak, CEO of PMI, said at the announcement. "We consider it an ideal location for our new U.S. head office, where we will be working to more quickly achieve our vision of a smoke-free future."
Olczak believes the relocation "will drive the innovation central to our smoke-free ambitions," adding, "We are amid a profound transformation at PMI, and our new base in Connecticut will serve to accelerate our progress. Beyond replacing cigarettes with better alternatives, we intend to draw on our expertise in life and medical sciences to develop solutions in areas that include respiratory drug delivery and botanicals."
PMI finds itself in good company. Connecticut is home to two Fortune 100, 15 Fortune 500 and 26 Fortune 1000 companies, and is the No. 1 state in the U.S. for S&P 500 HQs per capita.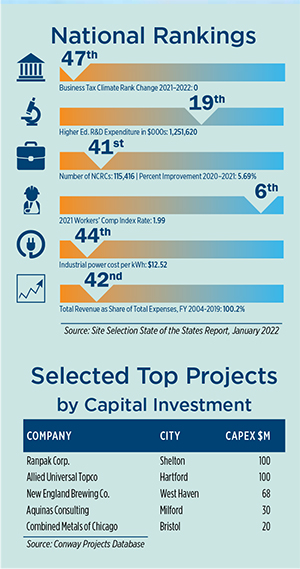 Why Connecticut? It comes down to a surprisingly simple equation of talent and exceptional quality of life.
"Companies are relocating to access our highly educated workforce and give their employees the lifestyle options they are looking for," says Peter Denious, CEO of AdvanceCT. "In Connecticut, it's not just a soundbite: We have one of the highest ranked educational systems in the country and we are one of the few sea-to-ski states in the nation. It is a 'you can have it all' proposition.
"It quickly became clear that Connecticut had everything we were looking for in a new headquarters."
— Barry Silbert, DCG founder and CEO, on the decision to locate the company's new HQ in Stamford
"People determine the success and failure of any business, and companies are doubling down on locations that enable them to recruit top talent and retain them," he says. "When it comes to talent attraction and retention, Connecticut has a compelling proposition. We have 38 world-class universities such as Yale, graduating students can find jobs with our incredible mix of companies and industries, they can live in one of Connecticut's cities, suburbs or even on a farm, and can easily get to New York City or Boston for dinner."
A Hub for Fintech and Blockchain
It was this equation that led another high-tech company in November to select Stamford for a headquarters after considering potential sites in New Jersey and New York. Digital Currency Group (DCG) will occupy its new 90,000-sq.-ft. headquarters in the Shippan Landing Complex later this year, where it will create more than 300 new jobs over the new five years.
DCG is a global investment company that has invested in more than 200 blockchain companies and is the parent company of seven wholly-owned subsidiaries that have emerged as digital asset leaders.
Several of those subsidiaries — including Grayscale Investments, the world's largest digital currency asset manager with more than $50 billion in assets under management — are also relocating to Connecticut. Institutional trading platform TradeBlock, as well as DCG Real Estate and DCG's new wealth management business HQ, will also call Connecticut home.
"It quickly became clear that Connecticut had everything we were looking for in a new headquarters," said Barry Silbert, DCG founder and CEO. "Its proximity to major metropolitan areas combined with its infrastructure, talent, business-friendly environment, and world-class facilities to house our rapidly-growing organization made it an easy choice. We are committed to making our new home in Stamford a hub for the next generation of fintech and blockchain entrepreneurs."
Connecticut's highly skilled and educated workforce ranks among the top in the nation. Milken Institute ranked Connecticut No. 5 for its technology and science workforce in 2020. Across the state, more than 23,000 people are employed at more than 1,300 life science companies. Connecticut also boasts one of the fastest-growing tech workforces in the nation and is home to a concentration of high-tech enterprises along the Innovation Corridor, which stretches from Stamford to New Haven and up the Connecticut River to Hartford.
According to the CT Tech Council, there are more than 6,000 technology and tech-related businesses within the state, employing some 120,000 people — giving Connecticut a tech industry concentration 1.13 times larger than the national average.
A new Innovation Corridor grant program announced in October by Governor Ned Lamont aims to bolster the state's high-tech, innovative economy and will invest over $100 million into selected locations across the state. The grant program is expected to help create at least 15,000 new jobs in data science, advanced manufacturing, insurance technology and other high-growth industries.
Tech Leaders Commit to Workforce Development in Connecticut
In October, two high-tech giants announced innovative new programs in partnership with Connecticut's institutions of higher education.
First, Amazon Web Services (AWS) announced a collaboration with Connecticut State Colleges and Universities (CSCU) and the Connecticut Office of Workforce Strategy to provide technical skills training and education to more than 2,000 Connecticut residents by 2024. AWS Academy program will provide CSCU institutions with ready-to-teach, cloud computing curricula that prepare students for industry-recognized AWS certifications and in-demand cloud jobs. Through this initiative, all CSCU community colleges and universities will be able to offer courses and certificates that align with skills needed to pursue in-demand careers in technical fields. The colleges will also work with interested high schools to provide access to cloud computing curricula.
"We know that CSCU institutions are a key component of Connecticut's workforce pipeline," CSCU President Terrence Cheng said. "This collaboration with AWS is an important tool as we work to expand the state's pool of tech talent and help create pathways for residents toward exciting careers in cloud computing."
In the week following the AWS announcement, Google and CSCU announced that Connecticut would be the first state in the nation to be able to offer the full suite of Google Career Certificates to the system. As part of the Grow with Google economic opportunity initiative, the certificates are available on the online learning platform Coursera. The program equips people with skills for in-demand jobs within three to six months — with no degree or experience required — at a time when employers in IT-related sectors have reported a skills gap in the U.S. workforce.
Following an agreement among Google, the Connecticut Office of Workforce Strategy, and CSCU, Google and Coursera will provide a diverse population of Connecticut residents with the training to fill positions in data analytics, IT support, project management and UX design fields that are projected to grow in the next 10 years, with an average starting salary of $69,000. After completing the program, graduates can share their resumes with an employer consortium of more than 150 companies, including Infosys, Verizon, Walmart, Wayfair, and Google. Infosys has already pledged to hire 250 program graduates at its Hartford location.
"We are excited about this expansion of our Grow with Google Certificates program and the opportunity to partner with academic institutions across the U.S., including community colleges, which are critical to workforce development and economic mobility," said Ruth Porat, CFO at Google parent company Alphabet. "We believe that to have sustainable economic growth, we must have inclusive growth, and we are committed to continuing to help people develop the digital skills they need to participate in this economy."
Through the College of Technology, all Connecticut community colleges will offer credit courses that will include Google Career Certificate courses beginning in spring 2022. Non-credit courses will also be offered regionally using the community colleges' workforce development offices, with the rollout of the Google IT Support certificate in spring 2022. CSCU will partner with the Office of Workforce Strategy to help initially subsidize these programs for students and job seekers.